We are happy you chose St Lucia for your honeymoon getaway. This guide was created to remove the guess work from your St Lucia honeymoon planning. We are a team of dedicated St Lucia specialist who are here to guide you every step of the way as you plan your St Lucia honeymoon. We will help you book flights, hotels, airport transfers and tours.
A honeymoon in St Lucia will leave you with a lifetime of memories. With its luscious rain forest, enticing private beaches, twin peaks and lively local communities, the island of St Lucia is the go-to honeymoon destination for newlyweds worldwide.  The amazing landscape also lends to St Lucia being one of the best kept secrets in the Caribbean. The combination of luxury hotels, outdoor adventure activities, historical sites, culture, and most of all genuine people, and you've got the best honeymoon experience in the bag.
The island of St Lucia is located in the Eastern Caribbean near neighboring islands Barbados, Martinique and St Vincent, surrounded by the tropical breeze of the Caribbean Sea on the west and Atlantic Ocean on the east coast. St Lucia can be best described as the gem of the Caribbean as every aspect of the Caribbean can be found there. With its mountainous terrain, lovely beaches and even a drive through volcano nestled against the backdrop of the Piton Mountain (UNESCO designated site)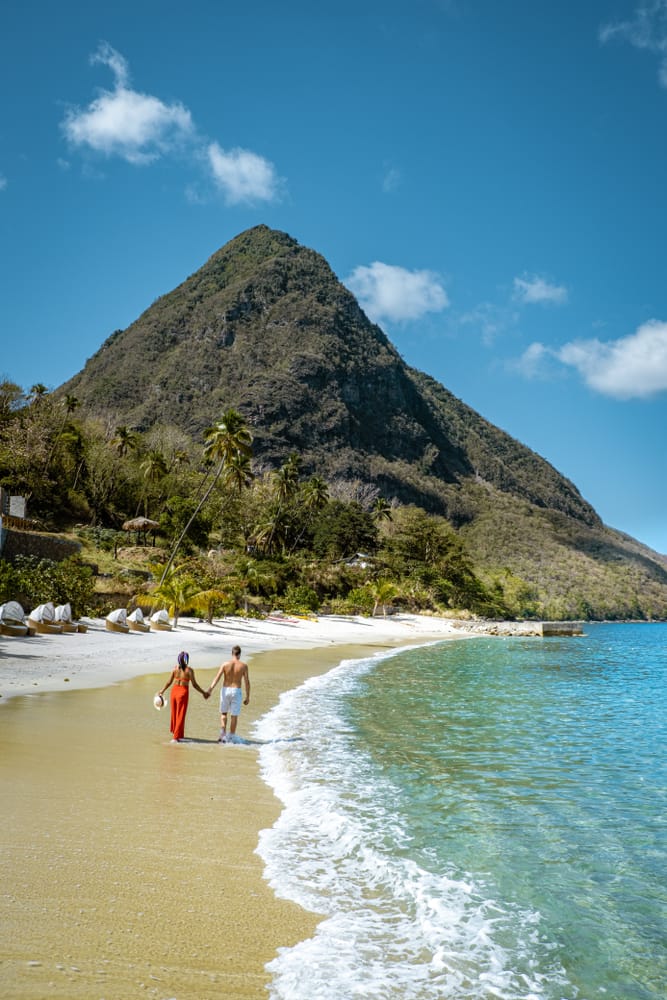 St Lucia is a blend of British, French, and Creole colonial heritages. When visiting St Lucia there are a few cities or as the locals say communities, you most definitely must check out.
is located in the north of the island and can be deemed the entertainment center of St Lucia. There you will find a wide assortment of restaurants, hotels, a casino, and nearby Gros Islet Friday night Street party. A must to check out in Rodney Bay is Reduit beach, which I quite possibly the best stretch of beach on the island. It is ideal for a honeymoon romantic stole which on island. A trip to Rodney Bay is not complete without visiting Pigeon Island and taking a short hike to a colonial British Fort called "Fort Rodney"


the ecotourism center of the island is located on the southwest cost of St Lucia. Soufriere is the oldest settlement in St Lucia and home to the world-famous drive through volcano with detoxifying sulphur mud baths and the majestic twin peaks – the Pitons. Also found in Soufriere are the Diamond Falls and Botanical Gardens along with operational cocoa plantations.
– lies between the capital city of Castries and Soufriere on the west cost of the island. Marigot Bay features a beautiful, sheltered harbor surrounded by luscious mangroves and rolling hills. Marigot bay is quite possibly the most romantic spot in St Lucia and a must visit if you are celebrating your honeymoon in St Lucia.


We would most definitely recommend a honeymoon in St Lucia. Newlyweds or couples looking for the full Caribbean experience with some of the best hotel product, romantic settings, scenic views, outdoor adventure, miles of beach and slow pace will find all that and more on the island of St Lucia.
When should you go on a St Lucia Honeymoon
The peak tourist season in St Lucia lies between the months of November to March. Mainly as this the peak winter periods in the USA, Canada, and Europe. Temperatures fall within the low 80s during this time of the year with minimal precipitation unlike the summer month where you would find temperatures in the high 80s. Summer is the best time to score cheaper rates but look out for the hurricane season which last from June through November. 
Although the hurricane season is unpredictable, St Lucia has been lucky to not have any disastrous hurricanes or tropical storms. If you are on a budget and looking to score a deal, we would recommend the summer season for your honeymoon in St Lucia but do expect some light scattered showers from time to time. During peak tourism months hotels tend to be more compressed with higher nightly rates especially luxury all-inclusive options.
How to get to your St Lucia Honeymoon
St Lucia's main airport namely Hewanorra International Airport (UVF) is located on the Southern tip of St Lucia in the district of Vieux Fort. There are many direct flights from major US hubs such as Dallas, New York, Atlanta, Chicago, Boston, Philadelphia, Charlotte, and Miami. 
There are also daily nonstop flights is Toronto Canada and London, United Kingdom. Most resorts on the island are located either in Soufriere or to the north of the island. Please expect a 30-minute commute to Soufriere and a 90-minute commute to the north of the island through luscious mountains and scenic views from UVF.
Another option to whisk away in style form the airport is to charter a helicopter which takes approximately 20 to 30 minutes to reach the north of the island.
Many major car rental brands such as Sixt, Avis, Hertz and National can be found at UVF.
What to do during a Honeymoon in St Lucia
A St Lucia honeymoon can mean two things; create adventurous memories or do absolutely nothing. It all depends on what your romantic vibe. We highly recommend mixing it up. Here are some activities you should consider on your honeymoon in St Lucia:
-Ziplining through the rainforest
-Snorkeling in Anse Cochon
-Fishing with Hacksaw Boat Charters
-Gros Piton Mountain Hike



-Tete Paul Hike
-Pigeon Island – Rodney Bay Fort
-Sunset Cruise on Mango Tango
-Scuba Diving
-Tree to Bar Chocolate Making Experience
-Soufriere day trip to Diamond Falls, Sulphur Spring Mud Baths, Drive through volcano
-Visit Marigot Bay
Stay up-to-date with our latest blog posts relating to St Lucia honeymoon planning
Error: View b35cff2ozg may not exist
Where to stay on a Honeymoon in St Lucia
St Lucia has some of the most iconic hotels in the world that are sure to please any traveler celebrating their honeymoon in St Lucia. We work with our tour operator provider to secure the best rates and deals to ensure that your St Lucia honeymoon in unforgettable. Our team provides planning advice, quotes and trip booking for round trip flights, hotels, airport transfers and tours.
Some of our favorite St Lucia honeymoon hotels include:
-Cap Maison Resort & Spa
-Sandals Regency
-Calabash Cove Resort
-Ladera
-Jade Mountain
-Sandals Grande
-Serenity at Coconut Bay
-Crystals St Lucia
-TiKaye Village Resort & Spa
-Body Holiday
-Stonefield Villa Resort
-Rendezvous Resort
Why is St Lucia perfect for a honeymoon?
Get A St Lucia Honeymoon Quote
Start Your Trip Planning
We are delighted to provide you with more information and free quotes for flight & hotel packages, tours and transfers. Let our St Lucia honeymoon experts craft the perfect experience for you.